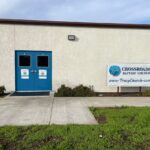 For your first visit!
Find Us:
As you arrive at 903 S. Corral Hollow you will see the Building for Valley Christian Church in the front.  Take the driveway to the right of that building to the parking lot beside the Crossroads building.  For additional parking take the driveway to the left of the Valley building to the back parking lot.  Follow the sidewalk between the trailers and look for the Blue doors.
What to Expect:
Inside this little inconspicuous building, behind the blue doors, you will find a growing group of believers who love God and love each other.  Spanning generations, from a multitude of backgrounds and cultures, at different stages in their spiritual lives, this family of believers wants to do life with you.
Families stay together for the song time. Children, 3rd grade and under have the option to attend the children's church time during the pastor's message or stay with their families.
The Pastor preaches verse by verse (expository) through the bible.
Our service usually is about 60 to 70 minutes long.
Some of our Crossroads families dress in their "Sunday Best" while others are more casual.
After the service, we hope to have the opportunity to get to know you.
We invite you to visit and "Discover the Difference"