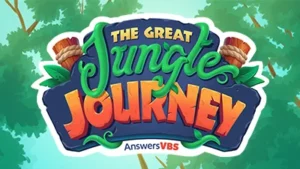 VBS 2024
The Great Jungle Journey
WHEN: 6:00-8:30 PM
Monday-Thursday  July 8-11, 2024  Activities for PreK-8th Grade. Thursday is Family Night — bring the whole family!
WHERE: Crossroads Baptist Church
903 S Corral Hollow Rd. Tracy
Register
Pre-register kids (coming spring 2024

Volunteer registration (coming spring 2024)

Looking for something during the school year? Check out Answer's Academy!
What is  VBS?
VBS is a 5-day program designed to bring a fun, interactive, science-focused Bible experience to our community.
Each evening students will be led through activities by trained teachers. Parents are always welcome to stick around and see what their kids are doing. You may drop the kids off Monday-Thursday and bring the whole family on Friday.
~Science/Robotics
~Music/Crafts
~Games/Carnival
~And it's FREE.